Dry Skin Remedies
Extremely dry skin can be itchy, uncomfortable and even embarrassing! Causes can include harsh soap, itchy clothing, too much hot water, and using the wrong type of skin moisturizer!
Medications, as well as medical conditions like diabetes, psoriasis, hypothyroidism, along with poor diet -- can also exacerbate this problem. Heredity often plays a role and elderly people sometimes find that they have more trouble with dryness of the skin due to the loss of the skin's elasticity over time.
Treating this issue is important because dry cracking skin can often lead to bacteria getting into the pores of your skin leading to more serious conditions like dermatitis.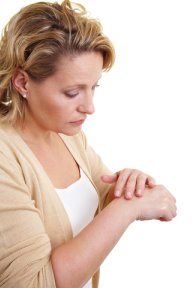 Other common skin concerns include:
Skin Spots -- Age/Liver spots occur with age. Often this condition is exacerbated by certain medications.

Dry Skin on Your Legs -- The most common cause of dryness of the skin on your legs is from shaving or from exposure to sun or the weather's elements. An application of lotion after a shower will help to relieve some of these issues.

Dry Skin on Feet -- Our feet take a pounding. Usually the heels and toes have some of the biggest problems. Wearing comfortable shoes that limit exposure to the elements will help alleviate some of these issues, but you might also consider using a neem-oil based foot rub.

Dry Skin on Your Face -- Harsh soaps, cosmetics, sunlight can all contribute to this issue. For men, shaving can compound the problem.

Dry Skin Around the Eyes -- Surprisingly, this is one of the more common skin ailments. Sometimes just the use of SUNGLASSES can start to alleviate this problem, as much of it is related to the amount of sun exposure your face receives.
People suffering from these skin conditions all are asking...."What is the best remedy for dry sensitive skin?" One of the best natural skin treatments (and inexpensive to boot) that I have found is simple body butter. It is non greasy and can be used any time of the year. Even when my skin is not dry, I love to use it on my elbows, knees, calves and feet!
Skin Care Tips
Although it may be difficult to completely cure dry flaky skin, the following skin care tips will help to manage it:
Take only warm showers or baths-limiting to 5 or 10 minutes.

Use only gentle botanical based body cleansers and facial. cleansers that don't strip away your skins natural oils.

Blot skin to dry, but leave some moisture on skin, then apply a non toxic moisturizing lotion.

Consider using a humidifier in your home year round, but especially when the humidity is low. (During the winter when the heat is on in your house, your humidity levels can drop to extreme lows).

Eat a healthy diet and drink plenty of water each day. Water will help to replenish the skin from the INSIDE.

Supplement your diet with fish oil or krill oil. Both supplements are LOADED with Vitamin E and Omega 3 Fatty Acids which can help to regenerate skin cells from the inside out.

Best Moisturizer For Dry Flaky Skin
I've had dry scaly skin since I was a girl. I used to put Alpha Keri Bath Oil directly on my skin after bathing. It seemed to miraculously take care of my scaly-looking skin.
What I didn't know is that I was actually damaging my skin! I was suffocating my skin by putting mineral oil on it. I went on to use products with mineral oil, glycerin, and/or propylene glycol in them for many, many years - not knowing these very products we're actually robbing my skin of its natural moisture and putting nasty chemicals into my body.
It wasn't until a few years ago that I learned about the benefits of using natural plant based products on my skin. You can learn more about the products I recommend in my exclusive Simple Skin Care Secrets Report!

---
---