Organic Cotton Bedding For Babies and Children
Many parents are now choosing organic cotton bedding, mattresses as well as organic cotton clothing for their young children to reduce their exposure to toxic chemical and pesticide residues found in commercial child's bedding, cribs and mattresses. Organic cotton fabric against your child's skin is a safer more natural choice!
Chemicals can be inhaled or absorbed into your baby's delicate skin!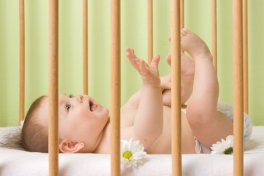 Environmental toxicants are suspected to be correlated with a dramatic increase in disorders that, until recently, have been assumed to be genetic in origin... attention deficit / hyperactivity disorder,and autism are among the disorders that may be linked to environmental toxicants.(Center for Children's Health and the Environment at the Mount Sinai School of Medicine, New York. www.childenvironment.org/factsheets
Medical studies have now shown a potential link between ADHD and chemicals pesticides that are commonly used in cotton fields, known as organophosphates which is just one more reason why so many parents are now choosing Why Use Organic Cotton Bedding?

To start with, organic cotton bedding is very soft and comfortable for your child's skin. Organic cotton fabrics last longer, resist mildew and dust mites and are free of harmful chemicals that are often present in other types of bedding and mattresses, which might contain toxins that could weaken your child's immune systems and cause additional problems to children with allergies. Traditional bedding is made out of cotton, often mixed with polyester. Cotton is known as one of the most chemically-treated cash crops in the world, and polyester is a highly flammable, oil-based material that has to be treated with flame retardants.
What Determines if Cotton is Organic?
Organic cotton is grown completely free of chemicals, which makes it the perfect choice for people with sensitive skin or allergies. Organic cotton fabrics are very soft and they have never had damaging bleach treatments, nor are they mixed with hazardous petrochemicals such as polyester.
How Can I Be Sure it's Really Organic?
Read the label. If is says 100% organic you can rest assured that it is. Manufacturing and labeling of such products are heavily monitored. In addition, organic bedding will have no dyes and should feel smoother and a bit heavier than non-organic fabrics.
Why Should I Use Organic Bedding?
Chemicals used in many manufactured household items are easily stored in the body and can cause illness, disease and disrupt the function of the endocrine system. Your baby may spend from 10-14 hours a day in his or her crib, which is why it makes sense to choose the best organic cradle mattress
Looking for Organic Baby Gifts?
Be sure to check these trusted resources for safe organic baby cotton bedding and other safe natural baby and child products such as organic cotton baby blankets, organic cotton bath towels, organic cotton sheets, organic moses basket, organic cotton mattress pads, organic cotton baby bedding, organic cotton pajamas, organic baby clothing, organic toddler clothes and organic baby toys, natural teethers and rattles? You will find a wonderful assortment at Our Green House!
---
Return from Organic Cotton Bedding to Nontoxic Alternatives.